INSPECTION SERVICES
In order for enterprises to operate safely and reduce costs and risks, the inspection of machinery is one of the provisions of Vietnamese law. Types of machinery and equipment included in the list of equipment in the Circular are required to be inspected. In each industry, there are different types of equipment and machinery that need to be inspected (eg: Manufacturing industry: forklifts, boilers, air compressors). The inspection time for each type of machinery is also clearly regulated by law:
New machinery and equipment: First inspection

Used equipment and machinery: Periodic inspection

Damaged and repaired machinery: Abnormal inspection
Safety Care Group provides customers with a maintenance plan to ensure stable operation of machines, inspects "machines umder strict safety requirements". We carry out specialized techniques and provide documents for you to declare to the authority in accordance with the law. At the same time, SCG supports your business in planning for an annual age-based inspection of the equipment on site. From there, businesses can optimize costs and time to learn and connect experts suitable for each device group.
Inspection service at Safety Care Group
What does the inspection service at Safety Care Group offer businesses?
So that businesses can achieve the standards of machinery and ensure safety during operation. Safety when operating machinery and equipment is very important and necessary.
1. The inspection criteria that SCG meets for customers
We bring to you the Inspection service that meets the following criteria:
Technical safety inspection

of all equipment and machinery in accordance with the law

Satisfy the appropriate inspection services

for the equipment/machinery that need to be evaluated (Ultrasonic welding pot, ultrasonic thickness of fabrication materials, inspection of safety valve manometer …)

Use suitable machines and equipment

according to technical safety inspection requirements for each suitable type.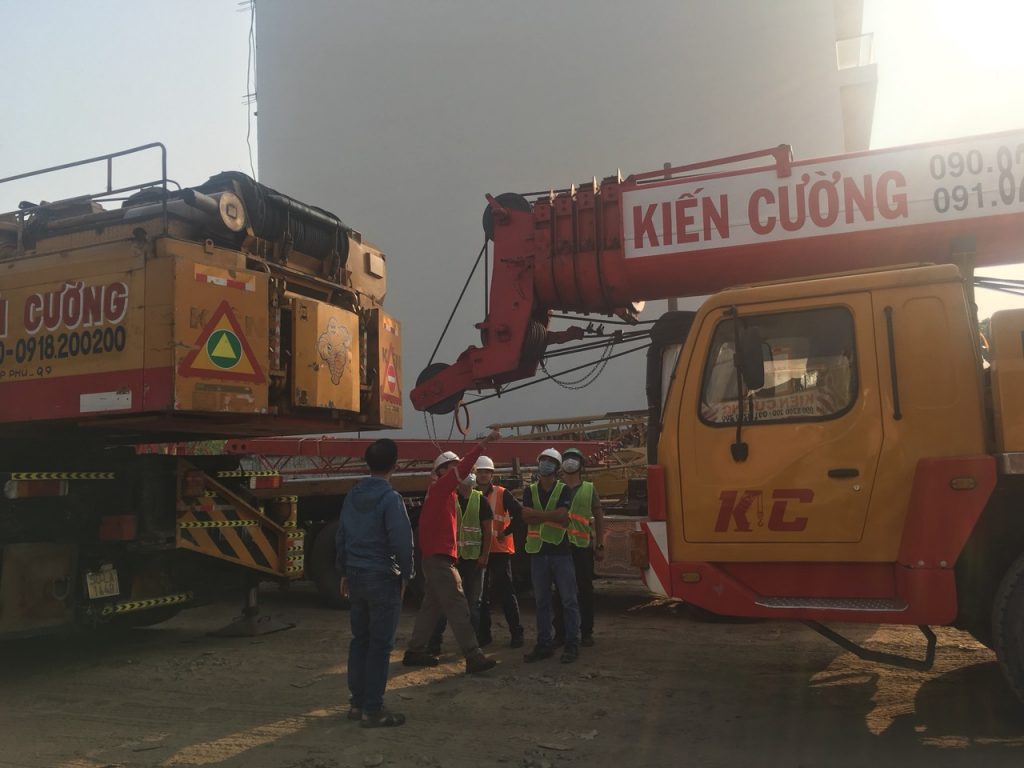 2. List of approved products
According to Decree No.44/2016/ND-CP on the detailed provisions of the Law on Occupational Safety and Health on technical inspection of occupational safety, occupational safety and hygiene training and monitoring of the labor environment, there are scopes of competence assigned to the inspection. SCG assists you in planning and carrying out inspections in accordance with each assigned authority:
2.1. Competence of the Ministry of Labor, War Invalids and Social Affairs (except for machines,
equipment and supplies falling under the jurisdiction of ministries specified in Sections II to IX):
Boilers; Water heater with a refrigerant temperature above 115 °C; Oil heating pot.

Pressure piping system.

Pressure vessels, tanks and tanks (including liquefied gas cylinders).

Cold system; System Modulation, gas filling, liquefied gas, dissolved gas.

Lifting equipment, including: cranes, cranes, gantry cranes, lifting machines (lifting tables, lifting platforms, lifting bridges, electric hoists, hand hoists, electric winches, hand winches), forklifts, forklifts and load bearing parts.

Hoists.

Elevators, escalators, passenger conveyors.

Machines and equipment for entertainment and entertainment purposes; cable car system for carrying people.

Equipment and means of personal protection.

Safety equipment, safety warning equipment for workers; equipment for training on occupational safety and hygiene; vocational training equipment.
2.2. Authority of the Ministry of Industry and Trade
Boiler with pressure over 16bar, pressure vessel, pressure pipeline system (with structure not mounted on means of transportation and means of oil and gas exploration and production at sea)

System for preparing, storing, loading, supplying, tanks, tanks, tanks, bottles containing petroleum products and liquefied petroleum gas.

Metal fixed gas transportation and distribution pipelines and technological gas pipelines in onshore oil and gas projects.

Single hydraulic pylons, movable frame racks and self-propelled struts are made up of single hydraulic struts used to support the kiln in underground mining.

Winches, load shafts with a load of 10,000 N or more used in underground mining.

Explosion-proof transformer

Explosion-proof electric motor.

Distribution equipment, explosion prevention switch (magnetic starter, soft starter, Aptomat, automatic circuit breaker, inverter, leakage current relay).

Explosion control equipment (Control panel, push button box).

Explosion-proof generator.

Explosion-proof power cable.

Explosion room lighting.
2.3. Authority of the Ministry of Construction
Sliding formwork system.

Climbing formwork system.

Climbing formwork system.

Drilling machines, piling presses and piling machines with a winch system.

Concrete pumps.

Tower crane.

Hoist used in construction.

Construction machines for tunnels and underground works

Steel scaffolding system; combined struts and columns.

The suspended floor lifts users in construction.
2.4. Authority of the Ministry of Agriculture and Rural Development
Tractors used in agriculture and forestry.

Motorized earthmoving equipment.

Seeding machine.

Planting machine.

Shoulder-mounted pesticide sprayer.

Insecticide sprayer and liquid fertilizer dispenser.

Hand-held bush and lawn mower.

Lawn mower.

Combined machine for harvesting rice, sugarcane, corn; forage harvesters and cotton harvesters.

Straw and grass baler.

Forest machine.

Vessels, boats, fishing gear and fishing equipment.
2.5. Authority of the Ministry of Transport
Machines, equipment and materials with strict requirements on occupational safety are installed and used on means of transport: ships, inland waterways, roads, railways, and aviation.

Machines, equipment and supplies subject to strict requirements on occupational safety, installed and used on offshore works in service of oil and gas exploration and exploitation; offshore oil and gas pipeline system

Loading and unloading means and equipment subject to strict requirements on occupational safety for specialized use in airports, waterways, shipbuilding and repairing establishments, railway vehicles (except for vehicles and equipment) used for defense and security purposes, fishing vessels).
3. For non-circular devices
According to customer's need, there are some suggested equipment:
Measure resistance

Safety Valve Inspection

Check the manometer

Machine tool KTAT test

KTAT test equipment
4. Set a minimum price for each inspection service
For technicaly inspection services for occupational safety of machines, equipment, materials and substances with strict requirements on occupational safet according to Circular No.41/2016/TT-BLDTBXH, the MINIMUM price is regulated when performing the work presently.
SCG advises businesses, implements the terms related to prices that the circular stipulates according to the legal terms:
Article 1: Regulation of minimum prices for machines, equipment and substances with strict requirements on occupational safety according to technical specifications (Inspection of boilers priced by capacity: VND 700,000 – 39,000,000 VND; Pressure vessel by capacity: 500,000 VND – 1,400,000 VND; etc.)

Article 2: Regulations on fee schedule for technical inspection of machinery, equipment, supplies and substances with strict requirements on safety, specific to industry – promulgated together with Decision No.47/2008/QD-BTC dated 03/07/2008 of the Minister of Finance. (Safety valve according to diameter: 40,000 VND – 130,000 VND; Heating pot according to the capacity of each device: 1,300,000 VND – 4,500,000 VND;etc.). The system of production equipment for storing and transporting substances with strict requirements on occupational hygiene and hazardous and toxic chemicals with specific safety requirements for the industry (tanks, pipelines, explosives, etc.) electric mines; Mine detonator resistance tester; Electric mine resistance tester; etc.)

Article 3: The price of technical inspection service for occupational safety is clear according to the circular for service providers.

Article 4: Service price management: Organizations providing technical inspection services for machines, equipment, materials and substances with strict safety requirements

must list prices,

,

publicize prices, accept comply with the provisions of the law on prices,

the law on occupational safety and health and relevant legal documents.
SCG provides comprehensive support services for all types of occupational safety machinery inspection to optimize research time and costs for each piece of equipment inspection. With a team of expert auditors with professional knowledge and extensive experience in the field of Inspection services, we support businesses optimally and complete documents so that customers can submit to legal authorities. Contact Safety Care Group for advice on Inspection Services according to your needs and current situation at your business premises.